Automatic Needle Threader
Helps solve the frustrating problem of threading the needle.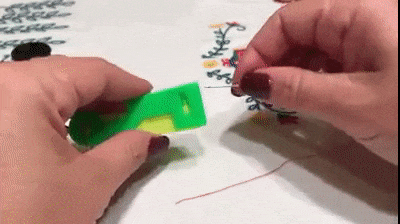 Frustrated of having to constantly pass that flimsy thread through the eye of your needle? Don't lick your threads ever again and automatically thread your needles with ease with the amazing Automatic Needle Threader!

FEATURES
Suitable for all sewing needles. Can automatically thread the thread into the needle in two variants. As a threading aid for fine sewing thread and sewing needles with a small needle eye.
Instruction of 1st method: Push the needle as far as possible into the hole located at the lower right edge of the threader. Then press the left button on the needle threader: a small hook appears, around which you put the thread. If you let go of the button again, the thread will thread itself into the eye of the needle. Then pull the needle out again and start working.
Instruction of 2nd method: Unfold the small plastic arm, which is located in the upper right area, and move it upwards. There is a small metal hook in the middle of the arm. Then place your needle with the eye of the needle so that the hook protrudes through the eye of the needle. Now wrap the thread at the front (on the left side) around hooks and lift the needle - the thread will now thread itself into the eye of the needle.
HOW TO USE
SPECIFICATIONS 
MATERIAL: Plastic
COLOR: Being delivered at random.
LENGTH: 2.7 in
PACKAGE
Automatic threader Needle threader × 3/6